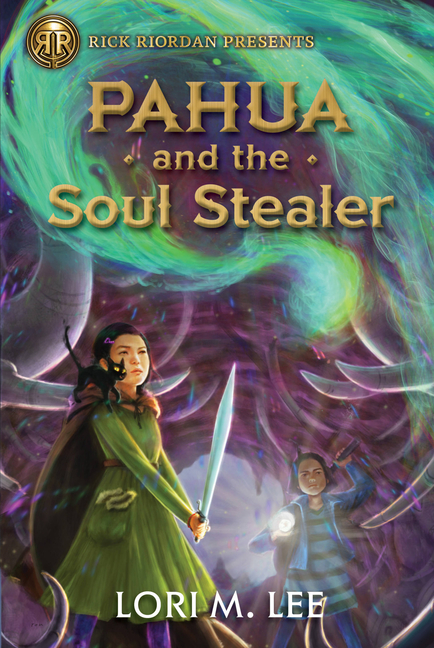 Pahua Moua has a bit of a reputation for being a weirdo. A lonely eleven-year-old Hmong girl with the unique ability to see spirits, she spends her summer days babysitting her little brother and playing with her best friend, a cat spirit no one else can see. One day Pahua accidentally untethers an angry spirit from the haunted bridge in her neighborhood–whoops. When her brother suddenly falls sick and can't be awoken, Pahua fears that the bridge spirit has stolen his soul. She returns to the scene of the crime with her aunt's old shaman tools, hoping to confront the spirit and demand her brother's return. Instead, she summons a demon. Thankfully, a warrior shaman with a bit of an attitude problem shows up at the last minute and saves her butt. With the help of this guide, Pahua will have to find her way through the spirit worlds and rescue her brother's soul before it's too late. Little does she know she'll have her own discoveries to make along the way. . . . With its unforgettable characters, unique nature-based magic system, breathtaking twists and reveals, and climactic boss battle, this story based on Hmong oral tradition offers everything a fantasy lover could want. (publisher website synopsis)
How Live Book Club Classes Work
Participation in the live book club includes access to a set of resources and activities as well as interactive components.
Participants receive
A suggested reading schedule
PDF reading guides with comprehension questions
Vocabulary/reading activities
Discussion board posts in our online classroom
Writing/multimodal project prompts related to the reading
An invitation to a live discussion
A recording of the summary of the live discussion

An optional feedback add-on for the final paper/project

Rubrics for at-home feedback
Families are welcome to use as much or as little of the suggested resources and activities as they'd like to fit their interest and schedules.
Ages:
9-13


Content Note:
Illness of sibling, culture clash, discrimination, microaggressions, some violence and fighting, hospital scenes, portrayals of traditional shamanism, rituals, and spirit beings.
Dates:
February 1-28, 2023


Live Meeting:
March 3, 2023
1:00 PM Eastern Time / 12:00 PM Central Time / 11:00 AM Mountain Time / 10:00 AM Pacific Time
Those who cannot attend the live session will receive a recorded summary.


Supplies:
A copy of the book Pahua and the Soul Stealer by Lori M. Lee (ISBN: 9781368069052). Borrowed, used, and audio formats will work. See more information about editions here: https://www.goodreads.com/work/editions/86796569-pahua-and-the-soul-stealer
Zoom account for live session
Microphone and camera for live session
PDF reader
Access to printer recommended