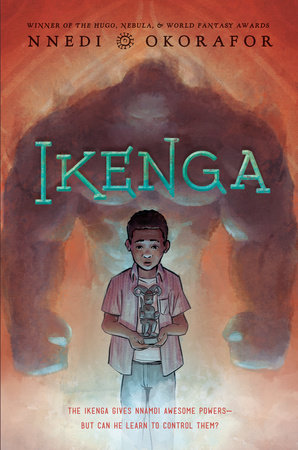 Ikenga, by Nnedi Okorafor
Nnedi Okorafor's acclaimed first novel for middle grade readers introduces a boy who can access super powers with the help of the magical Ikenga.
Nnamdi's father was a good chief of police, perhaps the best Kalaria had ever had. He was determined to root out the criminals that had invaded the town. But then he was murdered, and most people believed the Chief of Chiefs, most powerful of the criminals, was responsible. Nnamdi has vowed to avenge his father, but he wonders what a twelve-year-old boy can do. Until a mysterious nighttime meeting, the gift of a magical object that enables super powers, and a charge to use those powers for good changes his life forever. How can he fulfill his mission? How will he learn to control his newfound powers?
Award-winning Nnedi Okorafor, acclaimed for her Akata novels, introduces a new and engaging hero in her first novel for middle grade readers set against a richly textured background of contemporary Nigeria. (www.penguinrandomhouse.com)
This is a powerful book about power, strength, masculinity, and doing the right thing for one's family. I am especially excited to find a modern work that engages boys and presents a boy protagonist with nuance and depth while also including well-written girl and woman characters. Seeing a superhero story set in Nigeria is eye-opening and educational, and yet carries so many commonalities to people around the world.
This class is a self-paced version of a book from the 2021-2022 academic year SEA Online Classes Tween Book Club.
Each book club grants access to the following elements:
* A suggested reading schedule
* A PDF reading guide with comprehension questions
* Vocabulary activities
* Writing/multimodal project prompts related to the reading
If you would also like to sign up for feedback on a project or a chance to discuss the reading, please sign up here. For more tutoring/coaching options, please send a request here.
Content Note:
Portrayals of conflict, non-graphic violence, some injuries/pain, off-screen death. Scary situations (but with helpful adults and allies). Loss of family member. Portrayals of organized crime and people afraid of violence.