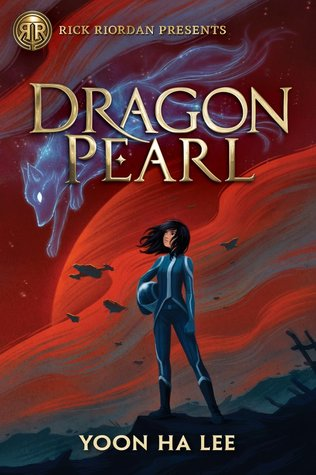 Dragon Pearl, by Yoon Ha Lee
THIRTEEN-YEAR-OLD MIN comes from a long line of fox spirits. But you'd never know it by looking at her. To keep the family safe, Min's mother insists that none of them use any fox-magic, such as Charm or shape-shifting. They must appear human at all times.
Min feels hemmed in by the household rules and resents the endless chores, the cousins who crowd her, and the aunties who judge her. She would like nothing more than to escape Jinju, her neglected, dust-ridden, and impoverished planet. She's counting the days until she can follow her older brother, Jun, into the Space Forces and see more of the Thousand Worlds.
When word arrives that Jun is suspected of leaving his post to go in search of the Dragon Pearl, Min knows that something is wrong. Jun would never desert his battle cruiser, even for a mystical object rumored to have tremendous power. She decides to run away to find him and clear his name.
Min's quest will have her meeting gamblers, pirates, and vengeful ghosts. It will involve deception, lies, and sabotage. She will be forced to use more fox-magic than ever before, and to rely on all of her cleverness and bravery. The outcome may not be what she had hoped, but it has the potential to exceed her wildest dreams. (Goodreads)
Dragon Pearl, by Yoon Ha Lee, is a wonderful merging of Korean mythical creatures in a space opera setting that also shares important cultural values like family and honesty. We also get to learn about other magical creatures in Korean mythology, like dragons and Dokkaebi (Korean goblins). This book includes a main character who is gender neutral as well!
September is usually when the Korean Harvest Festival is held, called Chuseok, and so it is a great fit to explore Korean culture through this book.
This class is a self-paced version of a book from the 2021-2022 academic year SEA Online Classes Tween Book Club.
Each book club grants access to the following elements:
* A suggested reading schedule
* A PDF reading guide with comprehension questions
* Vocabulary activities
* Writing/multimodal project prompts related to the reading
If you would also like to sign up for feedback on a project or a chance to discuss the reading, please sign up here. For more tutoring/coaching options, please send a request here.