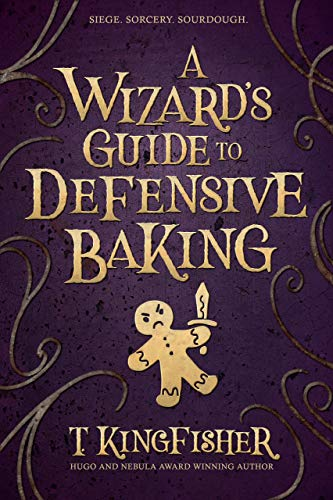 A Wizard's Guide to Defensive Baking, by T. Kingfisher
Fourteen-year-old Mona isn't like the wizards charged with defending the city. She can't control lightning or speak to water. Her familiar is a sourdough starter and her magic only works on bread. She has a comfortable life in her aunt's bakery making gingerbread men dance.
But Mona's life is turned upside down when she finds a dead body on the bakery floor. An assassin is stalking the streets of Mona's city, preying on magic folk, and it appears that Mona is his next target. And in an embattled city suddenly bereft of wizards, the assassin may be the least of Mona's worries… (argyllproductions.com/)
A Wizard's Guide to Defensive Baking, by T. Kingfisher, is a wacky and brilliant story about creativity, magic, and baking. Many of us have become acquainted with sourdough and other baking in the past year, and this book resonates with those experiences. With a well-written pair of protagonists (a girl and a boy), this story is fun and delightful, and a great inspiration for making spooky treats for Halloween!
This class is a self-paced version of a book from the 2021-2022 academic year SEA Online Classes Tween Book Club.
Each book club grants access to the following elements:
* A suggested reading schedule
* A PDF reading guide with comprehension questions
* Vocabulary activities
* Writing/multimodal project prompts related to the reading
If you would also like to sign up for feedback on a project or a chance to discuss the reading, please sign up here. For more tutoring/coaching options, please send a request here.
Ages:
10-14
Content Note:
Portrayals of conflict, non-graphic violence, some injuries/pain, off-screen death. Scary situations (but with helpful adults and allies). Loss of family member. Humorous portrayals of naughty cookies who cause trouble.