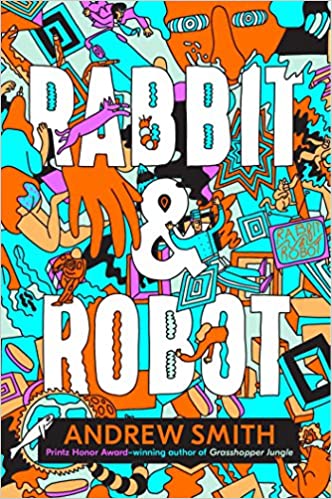 Join the Fall 2021 Teen Book Club!
Rabbit & Robot by Andrew Smith is a dark (and hilarious) tale of the future — a world where two spoiled boys find themselves hijacking a cruise ship into space and trapped on board with both animal and humanoid "cogs" — robots created by their conglomerate-running fathers who have pretty much taken over the world. As Earth rages beneath them, consumed by war and inequality, what lessons will they learn about what it means to be human as they face the very real possibility that they may be stranded forever?
How Live Book Club Classes Work
Participation in the live book club includes access to a set of resources and activities as well as interactive components.
Participants receive
A suggested reading schedule
PDF reading guides with comprehension questions
Vocabulary/reading activities
Discussion board posts in our online classroom
Writing/multimodal project prompts related to the reading
An invitation to a live discussion
A recording of the summary of the live discussion

An optional feedback add-on for the final paper/project

Rubrics for at-home feedback
Families are welcome to use as much or as little of the suggested resources and activities as they'd like to fit their interest and schedules.
Ages:
13-18
Content Note:
While written for a teen audience, this book has a generous amount of profanity, some disturbing images of poverty and violence (though primarily against "cogs," which are not living beings), and lots of sex talk (though no actual depictions of sex). The themes of this book are rich and meaningful. Primarily, the more crass elements are used to demonstrate the immature mentality of the spoiled protagonists, but it may be a lot for younger/more sensitive readers. Younger readers are also welcome to read the tween book for this month.
Dates:
October 1-October 31, 2021
Live Meeting:
Thursday, October 28 from 11am-12pm Eastern/10-11am Central/9-10am Mountain/8-9am Pacific
Those who cannot attend the live session will receive a recorded summary.
Supplies:
A copy of the book Rabbit & Robot by Andrew Smith (ISBN:

978-1534422209

). Borrowed, used, and audio formats will work.
Zoom account for live session
Microphone and camera for live session
PDF reader
Access to printer recommended